Areas We Serve
Professional HVAC Technicians in Gloucester County, Salem County, Cape May County & Beyond
If you need quality heating, air conditioning, and plumbing services, Ben's ProServ can provide a solution. With 4 decades of experience, we have helped hundreds of homeowners and business owners receive timely HVAC repair and installation services. Whether your plumbing lines are clogged, your air conditioner or heater is broken, or you just want to inspect and perform maintenance on an old system, our knowledgeable Vineland technicians can work quickly to meet your needs. We will talk with you to discuss your issues, and will use the latest proven technology to repair, replace, or install durable equipment in your home. Call us today at (856) 347-3588 for quality services and products.
Our Team of Licensed, Bonded, & Insured Technicians Can Serve Clients In:
Avalon
Cape May Court House
Ocean City
Sea Isle
Vineland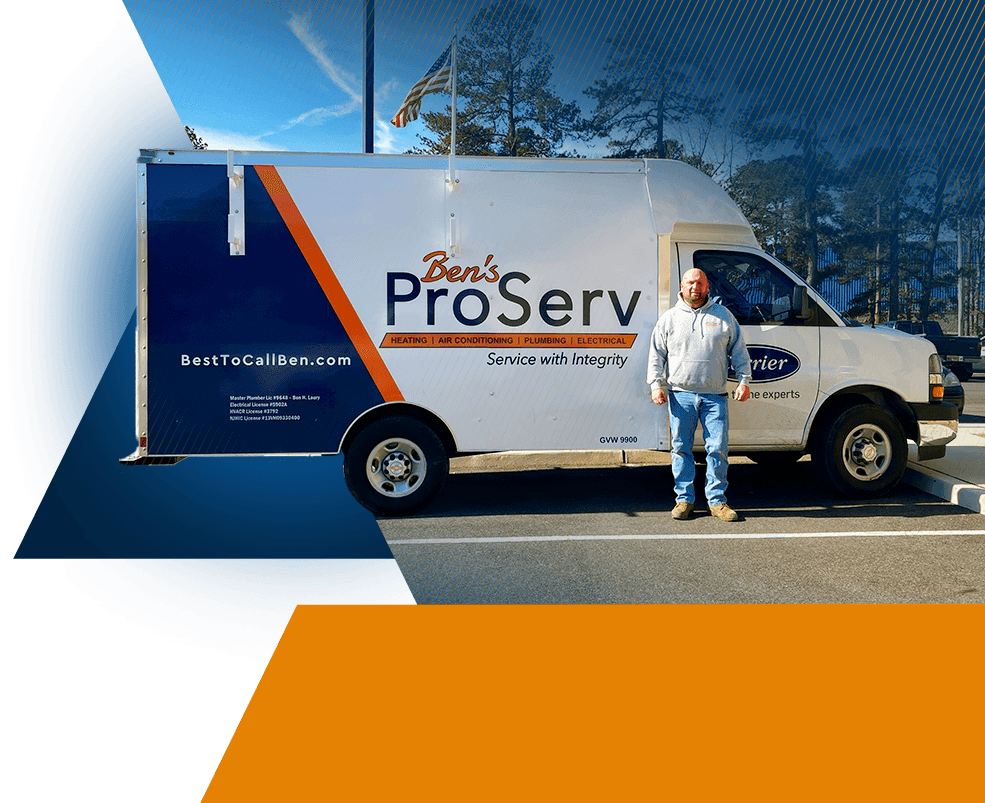 See Why Our Customers Love Us
"Everything about this company has been above board throughout the entire process"

Everything about this company has been above board throughout the entire process. Not only are they hard working but they have been nothing but courteous and kind to my family.

- John C.

"Great Service"

Aaron came to our home for service last week. Did a great job and answered all of my questions..

- Rob Richardson

"Competent, Fast and Reasonably Priced"

He fixed the problem within minutes. I was extremely pleased and plan to use his service again at home and at work.

- Linda P

"Would recommend to others!"

Called for a small plumbing problem, and received excellent service. Will definitely use Ben's for my plumbing and electrical needs.

- Cheryl P

"Ben treats his customers like family!"

You can't make a mistake in choosing Ben's Pro Serve to meet all your HVAC needs. This is a company that has integrity and treats customers like family. Over the years, my family has learned to count of Ben and his staff to make our needs a priority and get the job done right! They are experience, knowledgeable, and professional. We can always rest easy, knowing that our equipment is safe and well maintained. Thank you, Ben's Pro Serve! You're the best!

- Kate N.

"Professional and pleasant at a reasonable cost"

I called ProServ because I had a leaky pipe in the basement. Moe and Dan diagnosed the problem and fixed it in short order. These guys are very pleasant, knowledgeable, and professional. What's more, I received a call ahead of the appointment to tell me they were on their way. The cost was very reasonable.

- Tim Mihok

"Love the honesty and courtesy from a local business man!"

Love the honesty and courtesy from a local business man rather than a big box type business or chain of many stores that offers no personal service.

- Trish

"Reliable & Affordable"

Great family business. Reliable affordable. On time service

- John

Let Us Take Care of Your Family With Our Comfort Agreement
Receive Timely, Professional Services for Your New Jersey Home or Business
In the state of New Jersey, our team of experienced HVAC and plumbing technicians can provide services for a variety of needs. We offer air conditioning repair and installation, heating and furnace repair, and plumbing maintenance and repairs. We also install home automation systems and backup generators to provide a variety of electrical benefits.
If you want to repair or replace an air conditioning or heating system, our team is here to help. We are dedicated to client satisfaction, and use only the highest quality parts and equipment. For both residential and commercial issues, we can provide a timely and effective solution. Fixing HVAC, plumbing, and electrical systems can keep your home running smoothly.
We Can Help Your Home or Business Enjoy:
Better indoor air quality
Improved efficiency
Lower energy bills
Improved temperature control
By replacing old systems with newer models, our team can help you save money in the long run. Furthermore, repairing your existing system can improve the indoor air quality of your home or business. Leaky or cracked ducts can let in allergens, dust, and other particles from outside. In addition, having a poorly functioning air conditioner can make your home humid, contributing to the growth of mold. Thus, our services can not only make you more comfortable, but can also help protect your respiratory health.
We Are Passionate About What We Do
Whether you want to simply repair a unit, upgrade to a newer model, or install a completely new system in your home or business, our Vineland HVAC technicians can get the job done right. We are committed to making homes and businesses more efficient and comfortable. As soon as you schedule an appointment, we will inspect the systems and discuss your options. Our team can work quickly and leave your home cleaner than when we arrived. Throughout the process, we can answer your questions and provide friendly, personal services.