Plumbing, Electrical & HVAC Services in Franklinville
The Exceptional Service You Deserve!
At Ben's ProServ, we make your comfort and safety our business. When it comes to maintaining a functional and comfortable home or business, you need a team of skilled service professionals on your side. For 40+ years, our team has proudly served the members of our community by providing the most reliable heating, air conditioning, electrical, and plumbing services in Franklinville and the surrounding Gloucester County areas. From minor repairs to system overhauls to routine maintenance to new installations, no job is too big or too small for our techs to take on. We are familiar with all makes and models of equipment and guarantee your satisfaction with every service.
With Ben's Proserv on Your Side, You Can Expect:
24/7 emergency services
Free energy assessments
Free service estimates
Unparalleled workmanship
Call (856) 347-3588 or contact us online to request an estimate and make an appointment for HVAC, plumbing, or electrical services in Franklinville, NJ.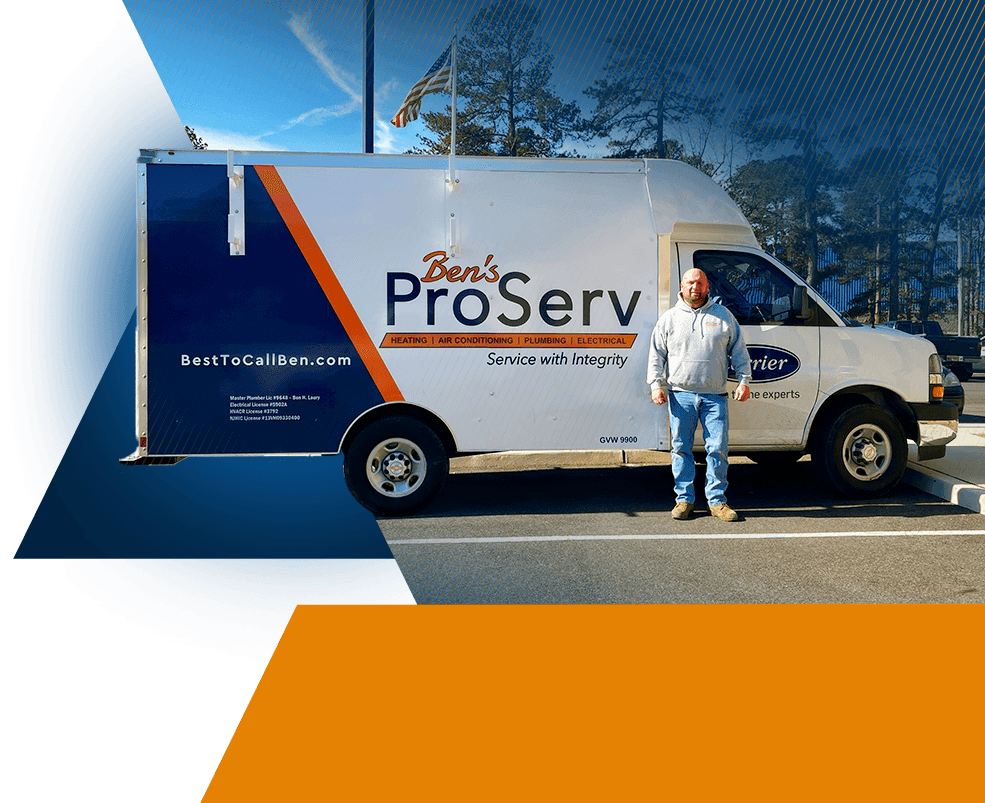 See Why Our Customers Love Us
"Everything about this company has been above board throughout the entire process"

Everything about this company has been above board throughout the entire process. Not only are they hard working but they have been nothing but courteous and kind to my family.

- John C.

"Great Service"

Aaron came to our home for service last week. Did a great job and answered all of my questions..

- Rob Richardson

"Competent, Fast and Reasonably Priced"

He fixed the problem within minutes. I was extremely pleased and plan to use his service again at home and at work.

- Linda P

"Would recommend to others!"

Called for a small plumbing problem, and received excellent service. Will definitely use Ben's for my plumbing and electrical needs.

- Cheryl P

"Ben treats his customers like family!"

You can't make a mistake in choosing Ben's Pro Serve to meet all your HVAC needs. This is a company that has integrity and treats customers like family. Over the years, my family has learned to count of Ben and his staff to make our needs a priority and get the job done right! They are experience, knowledgeable, and professional. We can always rest easy, knowing that our equipment is safe and well maintained. Thank you, Ben's Pro Serve! You're the best!

- Kate N.

"Professional and pleasant at a reasonable cost"

I called ProServ because I had a leaky pipe in the basement. Moe and Dan diagnosed the problem and fixed it in short order. These guys are very pleasant, knowledgeable, and professional. What's more, I received a call ahead of the appointment to tell me they were on their way. The cost was very reasonable.

- Tim Mihok

"Love the honesty and courtesy from a local business man!"

Love the honesty and courtesy from a local business man rather than a big box type business or chain of many stores that offers no personal service.

- Trish

"Reliable & Affordable"

Great family business. Reliable affordable. On time service

- John

Let Us Take Care of Your Family With Our Comfort Agreement
13 Warning Signs of a Plumbing Emergency
The last thing anyone wants to deal with is a plumbing emergency, but it can often be difficult to determine when your system is in danger. Luckily, there are plenty of signs you can look out for that can let you know it's time to bring in a Franklinville plumber right away.
Below Are 13 Warning Signs of a Plumbing Emergency:
An extra-green patch of grass on your lawn
Gurgling drains
Extremely low water pressure
Water coming up your drains when you flush the toilet
An increase in fruit fly activity
A sewage odor in or around your home
A frequently overflowing toilet
An unexpected spike in water bills
The sound of running water when no appliances are in use
A sulfur or rotten egg odor (gas)
Multiple clogged or slow drains
Frozen pipes
An unexplained puddle of water in your yard
Reach out to our skilled plumbers in Franklinville at first sign of a plumbing problem, and we will arrive straight away in fully stocked trucks. We are skilled in troubleshooting and repairing plumbing problems of all kinds.
How Often Do I Need to Schedule an Electrical Inspection?
You probably don't spend too much time thinking about your electrical system unless something is wrong, but we recommend that you keep a close eye on it and keep up with routine inspections. Electrical problems can destroy your appliances, cause electrocution, and start fires, so making sure your system is evaluated by a professional Franklinville electrician on a regular basis is extremely important.
How often you need to schedule an electrical inspection usually depends on the age of your property. While a brand-new property can usually go a little longer in between appointments, it is usually best to schedule a professional inspection every 3-5 years. Of course, if something is wrong with your system, you should schedule an appointment with an electrician in Franklinville right away.
The Importance of HVAC Maintenance
Did you know that a lack of proper maintenance is the leading cause for premature failure in heating and air conditioning systems? Much like any other major appliance or system, your HVAC systems need to be routinely inspected and tuned up in order to run properly. Manufacturers recommend annual maintenance for your HVAC equipment, in the fall for your heater and the spring for your AC.
Some of the Key Benefits of Routine HVAC Maintenance Include:
Improves energy efficiency
Reduces risk of repairs and breakdowns
Extends equipment lifespan
Satisfies manufacturers' warranties
Saves you money on repairs and energy bills
Improves airflow and indoor air quality
At Ben's ProServ, our Franklinville HVAC service pros offer comprehensive maintenance services. During maintenance appointments, we inspect each component of your systems, run a full safety and performance test, clean dirty components, lubricate motor parts, evaluate electrical connections, and much more.
We're Here for You When You Need Us
For 40+ years, Ben's ProServ has remained committed to providing the most reliable and affordable services in Gloucester County. We cater to residential and commercial properties of all sizes and have access to the highest performing, most energy-efficient plumbing, HVAC, and electrical equipment on the market. Our service professionals want to ensure we meet your every comfort and safety need, which is why we offer a comprehensive range of HVAC, electrical, and plumbing services throughout Franklinville.
Our Plumbers, HVAC Techs, & Electricians in Franklinville Offer the Following Services:
Heating repairs
Heating installations
Heater maintenance
Furnace repairs and installations
AC repairs
AC maintenance
AC installations
Geothermal installations
Air purification
Commercial electrical services
Home automation
Generators
Electrical upgrades
Electrical repairs
Lighting
Wiring
Water heaters
Tankless water heaters
Sump pumps
Faucets and sinks
Toilets
Drain cleaning
Sewer line repairs
Water pipe repairs
When you want the job done right, turn to Ben's ProServ.
Call Ben's ProServat (856) 347-3588to get started with your plumbing, electrical, or HVAC services in Franklinville. We look forward to serving you!