Ductless Mini-Splits in Vineland
How Do Ductless Mini-Splits Work?
The easy answer is "pretty great!" Single or multi-zone systems. Heating and cooling or just cooling. Whatever your needs, wherever your space, however you use it, Carrier® Ductless systems offer customizable solutions that are efficient and quiet.
Here's How Ductless Works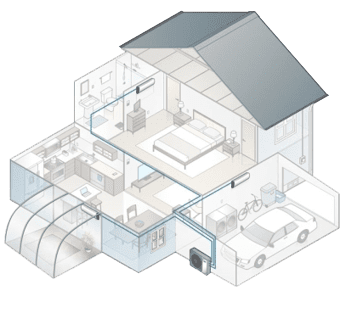 Ductless mini splits work by sending refrigerant that is either cooled or heated directly to the unit that handles the air. The unit can be mounted either to your home's walls or to the ceiling. Ductless "mini-splits" are also known as ductless splits.
This is how ductless works in a single room:
The unit will either cool down or heat the air using refrigerant. It will then work to push the chilled air to where you need it in the space.
Electrical lines and refrigerant will send air from the outdoor unit to the indoor unit through an opening in the wall, measuring around 3".
The heat pump used in Carrier® units will either warm up or cool down refrigerant and send it through the air handler. This air handler keeps the temperature of the room stable, and knows when to send the conditioned air to parts of the room that need it most.
Or if you're using ductless as a whole home solution, up to 9 indoor units can be installed using the same outdoor unit.
We're Here
When You Need Us Fill out our form or call (856) 347-3588
to contact our team!
Why We Are The Right Choice
Certified Team

Over 40 Years of Experience

Free Energy Assessments

Emergency Services Available

Financing Available with Approved Credit

Free Quotes for System Installs & Replacements
Everything about this company has been above board throughout the entire process. Not only are they hard working but they have been nothing but courteous and kind to my family.

He fixed the problem within minutes. I was extremely pleased and plan to use his service again at home and at work.

Called for a small plumbing problem, and received excellent service. Will definitely use Ben's for my plumbing and electrical needs.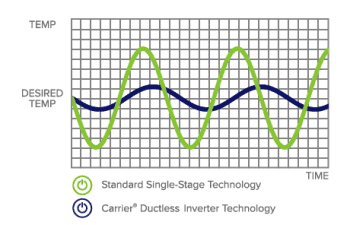 Ductless systems from Carrier use INVERTER technology, operating at variable speeds, which results in more-even temperature control, greater energy savings and powerful dehumidification. The compressor speed adjusts automatically, much like a car on cruise control, so the system isn't constantly running at maximum capacity and only draws energy when it's needed.
Multiple Ways to Control
When it comes to monitoring or adjusting the temperature in your home, you have plenty of options.
Each indoor unit comes with its own remote control. Also, Carrier® offers a variety of thermostat options; even the option to control your heating and air conditioning from virtually anywhere with a smart phone.
Multiple Ways to Save
From the easy, hassle-free installation to eliminating your need for fossil fuels, there are multiple ways that ductless can help you save on home energy costs. Ductless also gives back, in energy efficient savings!
Ductless works in your home or your office! Call our Vineland heating & air conditioning team at (856) 347-3588 to schedule a consultation.
Proudly Serving
Vineland & Surrounding Areas
24-Hour Emergency & Same-Day Services Available