Ductless Mini-Splits in Vineland
How Do Ductless Mini-Splits Work?
The easy answer is "pretty great!" Single or multi-zone systems. Heating and cooling or just cooling. Whatever your needs, wherever your space, however you use it, Carrier® Ductless systems offer customizable solutions that are efficient and quiet.
Here's How Ductless Works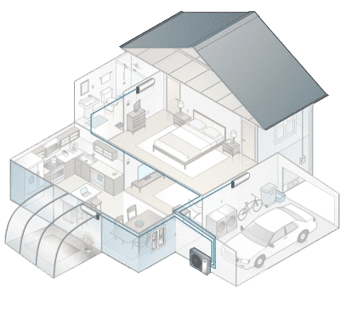 Ductless mini splits work by sending refrigerant that is either cooled or heated directly to the unit that handles the air. The unit can be mounted either to your home's walls or to the ceiling. Ductless "mini-splits" are also known as ductless splits.
This is how ductless works in a single room:
The unit will either cool down or heat the air using refrigerant. It will then work to push the chilled air to where you need it in the space.
Electrical lines and refrigerant will send air from the outdoor unit to the indoor unit through an opening in the wall, measuring around 3".
The heat pump used in Carrier® units will either warm up or cool down refrigerant and send it through the air handler. This air handler keeps the temperature of the room stable, and knows when to send the conditioned air to parts of the room that need it most.
Or if you're using ductless as a whole home solution, up to 9 indoor units can be installed using the same outdoor unit.
The Components of a Ductless System
Indoor Unit: Also referred to as an evaporator or air handler, this can either be a high wall, low wall (above) or ceiling unit. There's even a ducted option.
Line Sets: The line sets consists of a power cable, condensate drain, refrigerant and suction tubing all connected to the indoor unit through a 3" hole.
Outdoor Unit: Each outdoor unit, or condenser, can interface with up to 9 indoor air handler units and is designed to tolerate the weather and elements.
Zoning Options That Help Save You Money
Single Zone - Ductless air conditioners and heat pumps can be installed so that one indoor unit corresponds to one outdoor compressor. The compressor carries refrigerant and power to the interior unit via a small pipe, running through a small opening, installed with very little impact to your home.
Multi-Zone - One outdoor compressor can power up to nine indoor units, each separately controlled by a wireless remote, offering you flexible options for configuring your comfort solutions. You can even choose to add units to your compressor in the future after you've installed just two indoor units (depending on the maximum number of connectable units), allowing for more streamlined expansion or renovation of your home as time and budget allow. Why We Are The Right Choice
Over 40 Years of Experience

Emergency Services Available

Financing Available with Approved Credit

Free Quotes for System Installs & Replacements
INVERTER Technology
Ductless systems from Carrier use INVERTER technology, operating at variable speeds, which results in more-even temperature control, greater energy savings and powerful dehumidification. The compress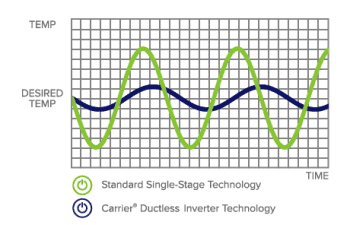 or speed adjusts automatically, much like a car on cruise control, so the system isn't constantly running at maximum capacity and only draws energy when it's needed.
Multiple Ways to Control
When it comes to monitoring or adjusting the temperature in your home, you have plenty of options.
Each indoor unit comes with its own remote control. Also, Carrier® offers a variety of thermostat options; even the option to control your heating and air conditioning from virtually anywhere with a smart phone.
Multiple Ways to Save
From the easy, hassle-free installation to eliminating your need for fossil fuels, there are multiple ways that ductless can help you save on home energy costs. Ductless also gives back, in energy efficient savings!
Ductless works in your home or your office! Call our Vineland heating & air conditioning team at (856) 347-3588 to schedule a consultation.
See Why Our Customers Love Us
"Everything about this company has been above board throughout the entire process"

Everything about this company has been above board throughout the entire process. Not only are they hard working but they have been nothing but courteous and kind to my family.

- John C.

"Great Service"

Aaron came to our home for service last week. Did a great job and answered all of my questions..

- Rob Richardson

"Competent, Fast and Reasonably Priced"

He fixed the problem within minutes. I was extremely pleased and plan to use his service again at home and at work.

- Linda P

"Would recommend to others!"

Called for a small plumbing problem, and received excellent service. Will definitely use Ben's for my plumbing and electrical needs.

- Cheryl P

"Ben treats his customers like family!"

You can't make a mistake in choosing Ben's Pro Serve to meet all your HVAC needs. This is a company that has integrity and treats customers like family. Over the years, my family has learned to count of Ben and his staff to make our needs a priority and get the job done right! They are experience, knowledgeable, and professional. We can always rest easy, knowing that our equipment is safe and well maintained. Thank you, Ben's Pro Serve! You're the best!

- Kate N.

"Professional and pleasant at a reasonable cost"

I called ProServ because I had a leaky pipe in the basement. Moe and Dan diagnosed the problem and fixed it in short order. These guys are very pleasant, knowledgeable, and professional. What's more, I received a call ahead of the appointment to tell me they were on their way. The cost was very reasonable.

- Tim Mihok

"Love the honesty and courtesy from a local business man!"

Love the honesty and courtesy from a local business man rather than a big box type business or chain of many stores that offers no personal service.

- Trish

"Reliable & Affordable"

Great family business. Reliable affordable. On time service

- John