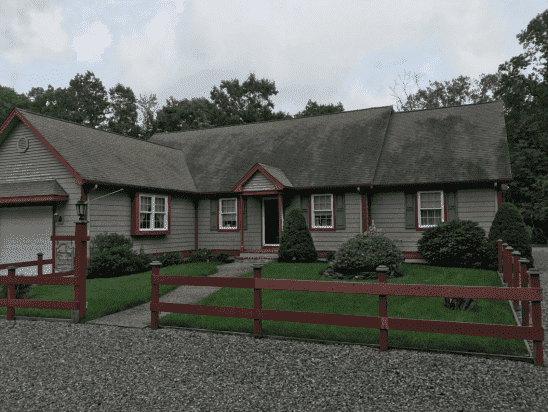 There's nothing more frustrating than having areas in your home that are just too hot or too cold all the time. You might find yourself avoiding spending time in those areas, and as a result, you're really losing the enjoyment of those spaces you paid a lot of money for!
Problem: second floor attic in this Cape-style home was finished, but needed great heating and cooling. Attics are notoriously hard to heat and cool, and being at the top of the home, they feel the change in outside temperature more than the rest of the home.
Solution: Installed an energy-efficient Carrier ductless heat pump system with two indoor units to ensure the attic was comfortable, no matter the season.
Our homeowners in Green Creek, NJ in Cape May County have a lovely home with a finished 2nd floor attic. Making the most of a home with a small footprint means taking advantage of spaces like these, but getting the standard heating and cooling system to work hard enough to cool spaces like attics is difficult. For many people, this means relying on window air conditioners or on space heaters, both of which are inefficient and space heaters can even be dangerous!
Our homeowners were looking for a long term solution that would give them the comfort hey craved, but not take up any of the space that would be required by trying to extend ductwork or create additional returns. When they came to us at Ben's Proserv, we had a perfect solution in mind that would meet all their needs.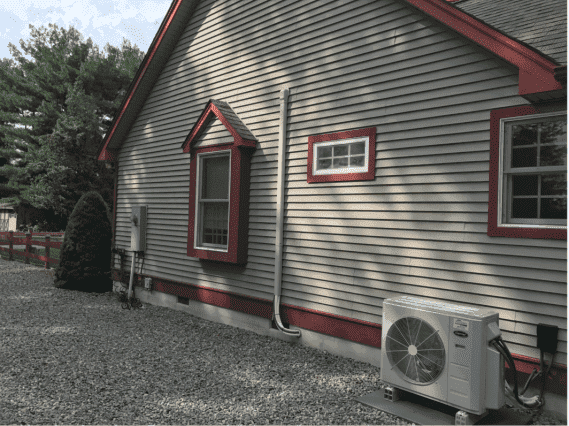 Attics are often much harder to heat and cool than the main parts of a home. Attics get extra hot in the summer, and the air doesn't always circulate well, and they are often extra cold during the Winter. When the homeowners in Green Creek finished their attic, they were looking for extra living space and maximizing the enjoyment of their home, but it lacked the comfort they really needed.
When they called us, we knew right away that a Carrier ductless heating and air conditioning system would provide them with the comfort they sought. These heat pump systems are incredibly efficient and work well even when it's -22 degrees outside in the Winter or 120 degrees in the Summer- which makes them more than suited for the weather we get here in Southern New Jersey! They are extremely energy-efficient and can provide both heating and cooling- something a baseboard heating system just can't manage. This energy efficiency also means that keeping this extra space comfortable won't cause your energy bills to explode- and that's something every homeowner can appreciate!
---
Ductless, sometimes referred to as split systems, are made up of two parts- an outdoor unit, shown above, and indoor units, mounted up on the wall in the areas to be heated and cooled. The units are designed to be easily controlled by a remote control, so your perfect comfort is available at the touch of a button! The units monitor the temperature and the humidity in the room, and evenly distribute the air throughout, eliminating hot and cold spots you get with other solutions. That means perfect comfort everywhere.
Ductless systems also means that the homeowners wouldn't have to lose living space on the second floor by having to install bulky ductwork- the wall-mounted units are up and out of the way, giving them maximum enjoyment of the space along with world-class comfort.
For the finished attic, our homeowners chose two wall mounted units, to make sure every inch in the upstairs space was comfortable to perfectly comfortable. Best of all, the units creates a separate zone of heating and air conditioning, meaning the homeowners can turn the units on and off on demand, only when they are using the attic. This means they can save significant amounts of energy- and money- by only heating and cooling this top floor when it's in use. That makes this a really cost-effective solution to operate, as well as to install.
If you're looking for additional heating and cooling comfort for those bonus spaces in your house that are hard to heat and cool, give us a call here at Ben's Proserv. We'll help you design the perfect solution with your home- one that's quiet and efficient, and won't cost you an arm and a leg to run.